Running a Public Speaking Skills Seminar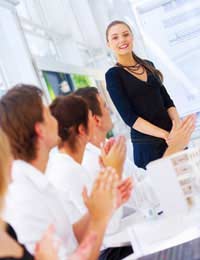 If you're a professional presenter, you may want to offer your services by advertising a public speaking skills seminar. This can not only be a terrific way to showcase your public speaking skills, but can also be a great addition to your curriculum vitae (CV).
To ensure that your presentation skills training is well-received, follow some or all of the following advice.
Plan Ahead
Don't want until the last minute to pull together your seminar or series of seminars. Plan at least 4-6 months ahead; that way, you'll have enough time to systematically tackle all aspects of preparing and running a public speaking course.
Target Your Audience
To whom are you hoping to share your public speaking abilities? If your answer is "university-aged students", then head to your nearest school of higher education to begin your advertising efforts. On the other hand, if you're looking to fill seats with executives and managers, you'll need to market to corporations or organisations that "white collar" professionals tend to join.
Determine the "Crux" of Your Public Speaking Skills Seminar
When you get your "students" into a room, what are you going to say to them? It's not enough to just talk about public speaking in general; your listeners will be there to understand how they can increase their presentation skills. If you've never written a curriculum before, it would be wise to find someone who has and ask for his or her advice. That way, you'll have a tighter product to sell to prospective audience members.
Find a Comfortable Venue
Plenty of public speaking experts decide to go with the lowest price when choosing a venue in which to present their seminars. This is unfortunate and often winds up creating problems. Many free or inexpensively-priced locales have heating/cooling issues or could be lacking in cleanliness, customer service or similar concerns.
Though it can be tough to spend money on a quality location, doing so will help ensure that listeners will concentrate on your message and not on their surroundings.
Decide How Long Your Public Speaking Training Will Be
Are you going to offer a series of one-hour seminars? Or are you more interested in selling a half- or full-day course in public speaking? Again, consider your answer very carefully. The shorter your timeframe, the less time your students will have to learn from you. On the other hand, if you advertise a six-hour public speaking skills seminar, you'd better be ready to deliver six hours of practical information, not fluff.
What Will You Offer As a "Value-Added" Extra?
Sure, your public speaking skills are terrific – but so are many other presenters'. This means you have to find a way to differentiate yourself from the rest of the pack, so to speak. One of the best ways to do this is to offer "value-added" extras to those who invest in your seminars.
For instance, why not put them on an e-newsletter list? Or give them all a call (or send a personalised email) two weeks after your seminar to see whether they've been able to put their newly-found public speaking skills to use. These might seem like small gestures, but not all presenters offer such add-ons.
Above all else, offer public speaking skills seminars because you want to help others. It's fine to make a profit in the process, but you'll be more effective – and will feel more rewarded – if your main goal is to impart knowledge.
You might also like...