Impromptu Speeches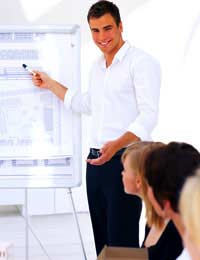 You're sitting in a meeting listening to your supervisor talk. Without warning he gestures to you and grandly announces to everyone in the room, "And now [insert your name] will talk a little about the direction the company is planning to take during the coming year!" All heads expectantly turn your way and you feel your stomach sinking to your shoes—is there any way to make this situation work?
The answer is "yes", though you'll have to do some quick thinking to make your impromptu speech a hit.
The Introduction
First, never start by declaring: "I didn't expect to say anything about that today, but… okay… I guess I can…" Such a comment really isn't important at this point and won't make your audience feel that you're a capable speaker. Consequently, you should approach your impromptu speech as a positive challenge and put a confident smile on your face (even if your insides are turning somersaults.)
Next, realize that you (fortunately) will not be expected to speak on the topic at hand for very long. Impromptu speeches aren't expected to be involved discussions; in fact, they can sometimes last for only a few minutes. That being noted, you can't simply fill those moments with "ums" and "uhs"; instead, you'll need to quickly formulate an outline in your head.The best way to begin your impromptu speech is to reiterate the topic area about which you were asked to speak. This not only benefits the listeners; it also helps you get your brain around the subject matter.
In the example above, the speaker might say, "Thanks, Ted. I'd like to talk about the company's directives for next year. As you all know, the past twelve months were filled with many changes, and we're hoping to piggyback on some of them to build an even stronger foundation."
The Body
From this type of spontaneous introduction, you can launch into one or two of the new initiatives, describing each in greater detail, telling listeners when it will "roll out", discussing how it is expected to benefit the business, and relating how its effects will be measured.Make every attempt to give each "supporting point" of your speech body the same amount of time and energy, but try not to jump around from one item to another and then back to the initial one. Such indecisiveness makes a talk difficult to follow.
The Conclusion
In no time at all, you'll find yourself at the conclusion of your impromptu speech, where you can feel free to turn to your host and ask, "Is there anything I missed?" You'll have successfully and expertly "thrown" the floor to the other person without missing a beat, and he or she can take the meeting from that point.
However, if you're unable to rid yourself of the spotlight (perhaps your supervisor had to leave the meeting or is unwilling to take back control), you can always open the discussion to questions and answers from the audience. Just be aware that you'll need to respond in an intelligent, honest manner.
Some Reminders…
Generally speaking, an impromptu speech will probably not make or break your career or reputation as long as you approach it with poise. Don't talk about controversial subject matter, don't use the experience as an opportunity to grandstand, and don't complain or roll your eyes when asked to give your impromptu talk.
Simply pause for a moment and then begin. Before you know it, you'll be internally patting yourself on the back for a job well (if hastily) done.
You might also like...