Political Speeches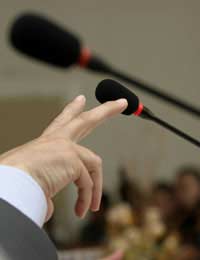 Whether you're already actively involved in politics or simply considering throwing your hat in the ring you must be comfortable giving speeches. After all, even if you're running for a small-time office, you'll be required to solicit constituent votes via public speaking events.
However, beyond merely understanding how to formulate your words and deliver them with confidence, you'll also need to keep in mind the emotionally charged nature of politics. Unless you're giving a speech to a group of likeminded persons (e.g., persons who would vote for you anyway), it's quite probable that you'll have to deal with potentially hostile (or at least skeptical) audiences.
Below are some helpful tips and tidbits to make your foray into the world of political speech composing and delivering a successful, positive experience.
Take a Stand
There's nothing more difficult to watch than a candidate who tries to be all things to all listeners. The result is usually a low constituency, not to mention a less-than-flattering reputation.When you're making a speech as a politician, it's necessary for you to clearly state your position. Will some people oppose you? Of course. But that's part of the political realm. Remember that when you support everything, you essentially support nothing. So be ready to make a few waves.
Prepare for Negative Responses
Being "booed" or "heckled" is a common occurrence for political candidates. However, the finest politicians understand how to professionally deal with audience negativity or discourteous behavior.For example, if you have a good sense of humor, you may be able to swiftly respond to a would-be jester, effectively putting a damper on him or her. Alternatively, if you can take the "high road" and simply ignore negative chanting or hissing (as long as it's not louder than your speech), you can continue without acknowledging the disruptors.The one trick here is to not allow yourself to become swept away by the pessimism of others. If you become visibly shaken, angry, or hurt, you'll lose credibility with those you're hoping to persuade.
Be Energetic
Politics isn't always exciting, but you need to be enthusiastic when speaking as a politician or political candidate. Even if you're discussing a rather dull item, you need to find a way to make it interesting and appealing to your listeners. Obviously, you cannot infuse some subjects with levity; but you can say what you need to with a sense of significance. If you're bored, your audience will sense your ennui and withdraw their collective attention.
Be Factual
It's unfortunate, but many people instantly believe that politicians are telling untruths. The press adores being able to "catch" a political candidate in a small fib… or, better yet (for them), an outright lie. Consequently, you have to make sure your speech is 110% factual if you hope to be effective. Statistics, dates, opponents' stances, and other items should be checked, double-checked, and triple-checked.Should you be in doubt of the validity or accuracy of some part of your speech, leave it out lest it be your downfall.
Be Succinct
The days of hours-long speeches are, for the most part, past. Today's politicians know how to be as brief as they possibly can. Once you've made your point and emphatically backed up your introduction, be kind to your listeners and exit the stage.You'll be heralded as someone who knew how to efficiently spend both his/her as well as others' time. And you'll be using the age-old technique: "Leave 'em wanting more."
You might also like...
Please help me to speak better in front of public, I want to become a good and attractive politician. Please help me so that I can attract public towards me very easily.
AAP
- 13-Jun-14 @ 4:22 PM
I want to know how to speak how to in public.
wills
- 16-Jun-13 @ 4:44 AM