Dealing With Problems With Poise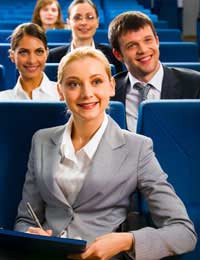 Without these two elements it's virtually impossible to provide an audience with a stellar speech. But a good number of successful public speakers were not born with these natural abilities. Instead, they learned how to stand before a crowd and deliver a speech in a self-assured manner… and you can, too.
Try some of these proven techniques to maximize your potential as a public speaker and infuse all your speeches with assertiveness and aplomb:
Stand Up Straight!
Good posture is the backbone (pun intended) of a strong, confident speech maker. Unless you have a physical condition that prohibits your ability to stand up straight (such as scoliosis or confinement to a wheelchair), it's essential that you learn how to stand at your tallest.You can quickly practice and perfect your posture at home in front of a half- or full-length mirror.
First, lift your head until the underside of your chin is parallel with the floor. Next, raise your shoulders toward your ears. Then, pull your shoulders back, squeezing your shoulder blades toward one another. Finally, still squeezing your shoulder blades, bring your shoulders down to a "squared" (but comfortable) position.
Look in the mirror and study yourself; this is the posture position for which you should strive. Though it may feel awkward or stiff at first, the more you polish it, the more natural it will appear to onlookers. Best of all, great posture will promote better speech volume (your insides aren't as "squished") and a general "leader" appearance.
Look Your Best
When you look good, you feel good. And when you feel good, you are able to perform at your highest level. Consequently, it's important that you never neglect personal appearance when preparing for a speech.
Get a haircut.
Shave (or trim) any facial hair.
Buy a new outfit.
Iron any wrinkles in your garments.
Shine your shoes.
Learn how to apply makeup (even if it's just foundation/moisturizer and lip gloss.)
Do whatever it takes to be able to feel physically secure in front of an audience.
Be Prepared
It's impossible to be poised when you haven't thoroughly prepared for your speech. Therefore, spend several hours honing your talk and practicing it aloud (alone or for a friend or family member.) That way, you'll be ready for action when it's time for you to speak.
Additionally, bring anything and everything you think you may need in a carry-on bag or smaller box (you can hide it backstage or behind a podium or skirted table.) Never underestimate the value of cough drops, extension cords, facial tissues, pens, paper, safety pins, paper clips, masking tape, adhesive tape, band-aids, brush, comb, shoe polish cloths, hand wipes, scissors, and other seemingly random items. You may never have to use them… but do you want to be left without them in case you or someone else needs them?
Practice Positive Self-Talk
Have you heard the phrase: "You're your own worst enemy"? It's absolutely true. If you constantly tell yourself that you cannot do something, it's likely that you'll undermine your ability. Positive self-talk is just the encouragement you need to turn a so-so speech into a spectacular one.
Instead of being negative, instill yourself with confidence by repeating to yourself, "You can do it!" If you make a mistake, don't mentally berate yourself; instead, move on and allow yourself to learn from your errors. Be your own best friend and you (and your audience members) will reap the benefits.
Now go out there and wow your listeners with your confidence!
You might also like...
I like the methods but what is the biggest barrier of giving a speech? That's where am left out.
Nofa Poya
- 26-Jun-19 @ 10:43 AM