Symptoms and How to Relieve Them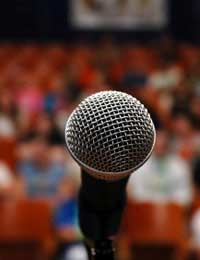 If you have an innate fear of public speaking you're not alone. Though this statistic has been challenged in recent years, it's been said that people fear speaking in public more than they fear their own deaths.
Still, there is no reason to believe that overcoming your public speaking fears is impossible. In fact, many great orators and performers have been able to transcend panic and become exceptional speech makers, lecturers, teachers, and entertainers.Here, we'll look at five common symptoms experienced by public speakers and how to realistically and effectively relieve them.
Symptom #1: You become so overwhelmed when on stage that you cannot remember what you want to say.
Though you don't want to read your speech (rather than engaging your audience), you should have a copy of it with you at all times. That way, you can refer to the pages if you lose your place.
You should also prepare in depth before giving your speech. Many public speakers prep for at least five hours per one hour of speaking time so they are not flummoxed when they get in front of their listeners.
Finally, remember that you're putting much more pressure on you that the audience will. Often, we are our own worst saboteurs. So allow yourself to be human rather than expecting perfection.
Symptom #2: You perspire profusely when in front of a crowd.
Sweat is natural when working out in the gym or running through the park, but its presence can be problematic when you're the focus of everyone's attention. Beyond using a deodorant with an antiperspirant, make sure you dress in lightweight clothing. Most stages and meeting rooms become very hot, which will lead to increased perspiration.
You can also employ some relaxation exercises (such as yoga) before you have to speak. By slowing your body's heart rate and breathing, you'll decrease the possibility of needing a towel by the time you get to the end of your speech.
Symptom #3: You become physically ill when you have to speak to an audience.
For Relief:
Though it's a bit distasteful to say, it's a fact that there are a great many public speakers who become physically ill before performances.
If you find yourself in the bathroom before every speech, you may want to take some precautionary measures such as ingesting anti-diarrhoeal agents and foods or sipping ginger tea or ginger soda (they calm a queasy stomach naturally.) Some speakers also chew gum before getting in front of a crowd to keep their mouths and minds occupied.
Symptom #4: You cannot stop your body and/or voice from shaking when addressing listeners.
For Relief:
Nervousness can be downright upsetting if you cannot control wobbly knees or a quivering voice. First and foremost, acknowledge your nervousness by allowing yourself to embrace your fears. Plenty of times, shaking is a result of trying to "make" oneself "calm down"; ironically, putting such demands upon you only serve to make you more panicky, not less.
Next, engage your body in some specific physical activity. Perform sit-ups. Do jumping jacks. Run around backstage. Warm your muscles and you'll be able to better control them when on stage.
Finally, if you're in an intimate setting and it seems appropriate, you can always use your nervousness as part of your "charm" or personality. Show a shaking hand to the crowd and joke, "Can you believe that I still get so excited when addressing an audience?" Then, laugh it off and move on. By making light of your problems, it's likely that they'll have less of a hold over you.
Symptom #5: You cannot sleep for many nights before a public speaking event, and the insomnia isn't from excitement or anticipation… it's from sheer dread.
For Relief:
Being a little restless the night before a speech is to be expected, but if you've gotten no decent sleep for many evenings, you may be allowing your fear to get the better of you.
Instead of giving in to sleeplessness, combat it by eating nutritious, light snacks before bedtime (rather than heavy meals); taking a warm, soothing bath before you retire; or listening to soothing music while in your dimly lit (or darkened) room. If you find that you still cannot sleep, get up and read, but don't engage in any activity that will make you too mentally aroused, such as watching television or logging onto the Internet.
As a last resort, you may want to consider taking an over-the-counter, non-addictive medication to encourage sleep. However, if you take this step, try them a few nights before your big speech, just in case they make you overly groggy.
You might also like...