"Selling Yourself" as a Public Speaker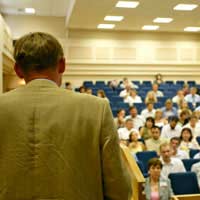 You're a public speaker.
Would it surprise you to learn that you're also a sales person?
Though you may not immediately give yourself this moniker you absolutely should. After all, a substantial part of being a memorable, professional speaker is "selling" yourself.
Don't worry, though… this doesn't mean putting a price tag around your neck; it's simply a figurative way of looking at how you can make sure you're remembered for all the right reasons (and hopefully asked to return for future speaking engagements thanks to your foresight.)
Below are a few of the ways that you can "sell" yourself to the event organiser(s) and audience members before, during, and after a speech:
Before the Speech
Prepare, Prepare, Prepare: The most impressive speakers are those who have obviously taken their speeches seriously and spent significant time getting ready.
Ask Questions: Don't know something? Pick up the telephone or send an email and get an answer. Never assume that it's not important if you haven't been told beforehand.
Get a Good Night's Sleep: A drowsy public speaker is typically a dull one. Get your rest and eat a light meal before your speech so you can "wow" listeners with your energy and enthusiasm.
Know Your Topic Area Well: If you're asked to give a speech, make sure you do your homework on the topic. Even if it's something you feel 100% confident discussing, it's still important to "brush up" on facts and figures in case you need them.
During the Speech
Be Energetic: When a public speaker is obviously enthralled by his or her subject area, the audience will be, too.
Keep Your Audience in Mind: If you notice some listeners shifting in their seats or starting to yawn, offer to take a quick break. If an audience member coughs incessantly, leave the podium and bring him or her a cough drop. This shows compassion and will be remembered by those attending your speech.
Involve Your Audience: Even if you're expected to give a straightforward lecture, you can still involve your audience in various ways, including via question and answer sessions.
Be Flexible: If you're well-prepared and you've given a few speeches before, you should be able to switch gears in mid-speech. For instance, if a format isn't working, why not quickly announce, "You know what? This just isn't resonating with me. Let's try something else!" Audiences love to be surprised by a "human" public speaker.
After the Speech
Follow Up: Did you say during your speech, "I don't know the answer to this, but I'll get it to you"? If so, you need to follow-through on your promises.
Stick Around: Unless you have to rush to another speech or catch a train or plane, stay in the room after your public speaking engagement has ended so you can shake hands, network, and discuss your speech with others.
Clean Up: A messy public speaker who leaves the stage or room a horrid mess is unlikely to get a second chance to "perform". Clean up after yourself, just like mum advised!
Send a Thank You Note: This is something that far too few public speakers do in our cyberspace era. However, if you want to stand out and "sell" yourself to the event's planners, send them a handwritten thank you note via postal mail. It will make a nice, unexpected, professional touch… and you'll be well on your way to making another "sale".
You might also like...
Hello! I am a 29 year old man from Canton Ohio. My life has been full of adventurous tales that make up a great motivational story to tell due to the constant personal development and challenging chapters where much perseverance was necessary to fight through. I am an aspiring speaker with an interest in helping teens and young adults. I want to help them gain an understanding of the great possibilities of success, the ability to make major change in life, and the importance of starting early. Because of my background, I have an easy time connecting with this age group and understanding the perspective, with an ability to persuade. Seeking the opportunity to change the future of youth
Quon
- 10-Jan-17 @ 1:38 PM