What's Expected of "Professional" Public Speakers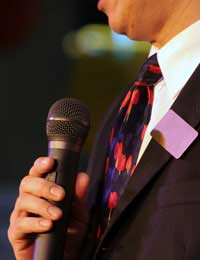 Though all public speakers regardless of status, should be proficient and energetic, professional speech makers have special expectations to meet (and hopefully exceed.) Below are ten common attributes that public speaking pros are traditionally required to possess.
1. Strong Knowledge Base
If you are being paid to present, you had better know your preferred topic area inside and out. Though you needn't be a prize-winning expert on the subject matter, you must be seasoned in the focus of your talk. (This is especially true if you're being hired as an instructor or coach.)
2. Audience Handling Skill
Unless you're met with a particularly challenging crowd, you will be expected to know how to handle difficult audience members. This means you should never allow jeers or rude comments to fluster you or permanently affect the delivery of your presentation.
3. Appropriate Preparation
It is understood that professional presenters will not simply enter a room and give the same speech they've delivered a thousand times before. Truly exceptional speakers customise and hone their lectures and addresses so no two are the same. (The possible exception to this rule is comedians or actors, though they, too, tend to add new, if subtle, nuances to every performance.)
4. Comfort in Front of a Crowd
Until you have mastered your "stage fright", it's unlikely that you'll be accepted or referred as a professional public speaker. After all, perspiring profusely and/or stammering uncontrollably will simply not do.
5. Basic Understanding of Human Behaviour
As a pro, you should intimately understand and anticipate listeners' needs. This means you should have the ability to switch gears during your speech if necessary, adding breaks or changing the format of your delivery to suit the overall mood of the crowd.
6. Polished Appearance
With the possible exception of very eccentric men and women, most professional speech makers have impeccable attire and take the time to ensure their appearance is appropriate. This means dressing to fit the occasion, not expecting everyone to cater to you.
7. Having Price Points
All professional public speakers should have some kind of a general idea of what they are "worth." Therefore, they can easily respond to the question, "How much do you charge?" Don't underestimate how valuable it is to have a quick reply to such an inquiry; most people prefer hearing a figure (even an inflated one) to the phrase: "I'm not sure… what do you have in mind?"
8. References
If you don't have any persons who can vouch for your public speaking abilities, you'll have a tough time trying to sell yourself as a professional. Generally, you should have 3-5 individuals (of good standing or whose names are recognisable to possible customers) who will be willing to speak with prospective clientele.
9. Good Attitude
No one enjoys working with a prima donna; thus, it's critical that you maintain a positive attitude if you want to be known as a public speaking pro in your field of expertise. This doesn't mean you should allow anyone to walk all over you, of course; but you should give more than a nod to your personal "customer service."
10. Consistent Follow-Through
Finally, as every business man or woman knows, it's imperative to follow-through on any and all promises you make. If you say you'll be available to speak at an event for remuneration of £100, you cannot change your mind at the last minute and increase your fees.
Good luck on all your professional public speaking ventures!
You might also like...