Unusual Elements to Add to a Speech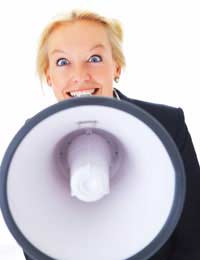 Many public speakers forget that (unless they are reading verbatim what someone else has written) they are in charge of their speeches. Consequently, rather than instilling each presentation with unique ideas, they tend to stick with a formula "that works." Unfortunately, that attitude can lead to lacklustre events which produce little more than yawns and rolling eyes from audience members.
If you have a speech in your future, it's up to you to infuse it with some liveliness and interest. Challenge yourself by implementing at least one of the following unusual elements as you're writing your outline and agenda.
Change the Venue
Want to keep your audience members on their toes? Shake things up a bit by taking your speech to a different venue. For instance, if you're presenting during a relatively modestly-attended morning meeting, why not suggest that everyone leave the conference table halfway through your speech and reconvene in a different room? Better yet, if it's a nice day (and you have available seating), conclude your presentation out-of-doors in the fresh air.
Whenever you make changes like this, your listeners will be energized and perhaps even a little curious. The only thing you need to do is keep their enthusiasm high; therefore, make certain that your new venue is conductive to a) being heard, b) being seen and, if applicable, c) using a projector or other visuals.
Add a Hands-On Segment
A good way to get your listeners involved with your speech is to make them an integral part of it. So feel free to include a hands-on segment where they have to do some work on the spot.
For instance, if you're delivering a presentation on how designers use colour, pattern and texture to create illusions, team up audience members, give them popular fashion magazines and tell them to find five examples of this practice. Then, have all of them report on their findings.
Obviously, this won't be possible with some group sizes or types, but it's especially effective if you're giving an educational speech.
Invite Unexpected Guests to Your Presentation
If you want to add a real element of surprise, invite a special guest (or guests) to your presentation to add their thoughts. They can be experts in the field about which you're presenting or they can be "lay people" who may not have expertise in your subject, but have something important and interesting to contribute.
Before you ask someone to join you, however, do make certain that they can maintain a high level of composure in front of a crowd. Their comfort—or discomfort—will make a huge difference in the way they are received and the way your speech is remembered.
Do Something That's Unanticipated
Do you have a talent that you could add to your speech? Stand-up comedy flair? Juggling know-how? Superior singing ability? Theatrical background? Then why not add it to your speech?
Depending upon the topic, length and number of audience members, it might be a perfect fit for you to do a funny costume to emphasize a point, conduct a magic trick or break out into song. As long as it's relevant and will add to (rather than detract from) your presentation, it's worth trying!
You might also like...