The Introduction of the Speech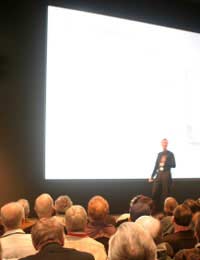 Your audience will decide in the first few seconds of your speech, whether or not they'll listen wholeheartedly to the rest. This means your introduction must grab their attentions, irresistibly luring them into your talk.
That's a tad bit of pressure, wouldn't you say?
Fortunately, writing a clincher of an intro isn't nearly as difficult as getting a hole in one during a golf outing or striking it rich by winning the lottery. It just takes a bit of pragmatism and a little imagination to ensure that your listeners will be rapt from the beginning to the end of your speech.
The "Hook"
First, you need to find a hook, something that will surprise the audience and make them sit up and take notice.
The hook can be something you say, but needn't be limited to words. For example, some non-verbal hooks include:
Projecting a striking image onto a white backdrop and waiting a full 10 seconds for everyone to quietly absorb its meaning;
Performing some kind of feat, such as juggling, which works well with both kids and adults (never underestimate the power of physical tricks); and/or
Standing at the podium or in front of the stage and saying absolutely nothing until there is complete silence in the room (it's amazing how intimidating this can be to even the chattiest group).
More traditional oratory hooks can be used in the form of:
A provocative one-sentence statement said with or without overt emotion: "On Saturday, I lost the best friend I will ever have in this world."
A well-placed joke or anecdote to lighten the mood: "When I got off the plane this morning, I realised that I forgot my heels. So you'll remember me as the only professional public speaker who addressed you in flip-flops!"
A question that is rhetorical or, better yet, requires an answer from the audience: "How many people here have experienced regret in their lives? Would anyone care to share one of their biggest regrets?"
The Structure
Once you've pinpointed what kind of hook you'll use, it's time to figure out how to structure your introduction.
The introduction of your speech will set the stage for the rest of your discussion or lecture, so it needs to be somewhat foreshadowing of what you'll discuss later. However, you needn't get into great detail during this part of your talk.
One of the easiest ways to format your intro is to follow this arrangement:
A) The Hook (physical, oral, visual)
B) The Overview (description of topic area and why it's important)
C) Supporting Statement Overviews (quick mention of how you'll show your audience the importance of the topic, how they'll help along the way, and what they'll learn from the speech)
D) Segue into the Body of the Speech (usually just a sentence or two ending the formal introduction and launching into the main part of your speech)
However, if you're comfortable with public speaking, you can feel free to vary this element of your introductory talk.
For instance, you might want to start with a hook, move to the overview, and then launch right into the body of your speech without revealing the direction your speech will take. You could also simply start with a hook and then jump into the overall speech; this is especially appropriate if the reason you're speaking is evident, such as at a wedding, anniversary, or other self-explanatory celebration or occurrence.
The Length
Finally, you'll want to give special consideration to the length of your introduction. Usually, its length will be relative to the length of the entire speech. Therefore, an hour-long speech may warrant a five minute introduction. However, a ten minute speech should only require an introduction of about a minute.
Though there is no hard and fast rule dictating how long your intro should be, remind yourself that it's only the opening for your discussion and not the speech itself.
You might also like...