Practicing Your Speech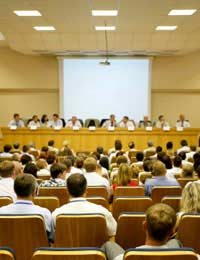 There's an old saying: "Practice makes perfect."
Guess what? It's true… especially when it comes to giving a speech.
Regardless of the type of speech you're expected to deliver, the event venue, the topic, the size of the audience, or your familiarity with the material, you must rehearse to be assured of a memorable result.
Of course, practicing doesn't mean simply reiterating your speech "ad infinitum." If you want to practice your speech correctly, you'll need to give the process some serious consideration.To ensure that your speech preparation produces fruit, we've gathered seven real-world tips and exercises straight from stage and podium professionals to your computer screen:
Practice Tip #1: Practice, Don't Memorise
Unless it's absolutely necessary, don't spend your valuable rehearsal time memorising the text of your speech. (After all, this isn't a play!) Not only does mindless memorisation waste your focus, it also isn't needed (in the majority of cases). Instead, pinpoint your energies into familiarising yourself with your speech just enough to boost your confidence.
Practice Tip #2: Practice in Front of a Mirror
You've no doubt heard this suggestion before. Stand before a mirror and practice… but make sure that you aren't simply reading. Look up, staring yourself in the eyes, and state your case. Though unnerving at first, the mirror technique of rehearsal can help you quickly gauge whether your body language and facial expressions are natural and/or appropriate.
Practice Tip #3: Rework Your Speech
Have a few days to "play" with the body of your speech? Why not mix it up a bit, then try inserting a different introduction, change the order of your supporting comments, or attempt an anecdote or two. Often, a "finished product" isn't nearly as complete as you might assume, so allow yourself the freedom to be creative.
Practice Tip #4: Practice in Your Mind
Did you know that you can practice your speech without moving your lips? Many professional public speakers engage in a technique that involves envisioning success to make it happen. Basically, all you need is a calm environment and a clear head. With your eyes closed, picture yourself giving your speech. Note your movements, the inflections of your words, and your cadence. Though this exercise might seem strange at first, it "trains" your brain to believe that you've actually experienced your speech already; consequently, when you step in front of the audience, you won't feel as apprehensive.
Practice Tip #5: Record Yourself on Audio/Video Tape
This method of practicing a speech is usually disliked, even by seasoned public speakers (after all, most people loathe the way their voices sound when played back.) However, there is probably no better way to ensure that you're delivering your speech with poise, enunciating your words clearly, and making appropriate gestures and facial expressions.
Practice Tip #6: Pretend You're Someone Else
It's tough to practice your speech if you cannot get over the basic fact that you're giving one! In order to fool yourself into getting over your fears, try delivering your speech (sans audience) as if you were someone else. You can choose to take on the identity of a famous person (perhaps a politician or public speaker) or just someone you know and admire for his or her speaking acumen. The point isn't to perfectly mimic the individual you choose; instead, your intended outcome should be to gain a new perspective on and understanding about your speech by looking at it as though you were another person.
Practice Tip #7: Get Feedback
Finally, if you're blessed with close loved ones and acquaintances, why not ask them to assist you by reading your prepared speech and providing you with honest feedback? Most friends and family members are happy to help out (they no doubt know you want to do your best), and they can gently guide your words and imagery to create a superb product.
You might also like...