Using Humour in a Speech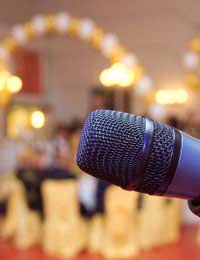 The use of humour in a speech may seem like an "easy" way to warm up an audience or to get a point across but if used inappropriately, it can rapidly backfire. Many public speakers have discovered, to their horror, that what they thought was funny or silly was deemed tactless or rude by listeners. Therefore, unless you are a professional comedian, be conservative in how you use humour; after all, it should be an asset, not a liability.
Some good rules of thumb to follow when determining whether or not to infuse one's speech with humour include the three noted below:
Let the Speech Venue Be a Guide
Not certain whether humour is warranted? You may want to first consider what kind of speech you'll be giving.
Obviously, if you're making a speech at a funeral or memorial service, you would be best to keep humour to a minimum. Certainly, you might want to interject a few sweet, touching remarks to lighten a somber mood ("My grandmother was one of the most giving persons in the world… except, of course, from 3:00-4:00 p.m. each weekday when she was glued to the telly watching her 'stories'. We quickly learned never to have a crisis during that timeframe because woe to anyone who tore her away from those programmes!") But don't try to make a sad occasion "happy" by being overly jovial.
Sometimes it's not always obvious as to humour's place in a speech. For instance, if you've been asked to talk for two minutes at a wedding, you might be tempted to fill your time with anecdotes or jokes about the couple or their relatives. Unfortunately, doing so might backfire, especially if the bride, groom, and guests are of a more stoical nature.
Always give serious forethought as to the venue of your speech and ask yourself the question, "Will humour be suitable?" If you're not sure, either leave it out entirely or gently insert it here and there.
Be Honest about Your Comfort Level with Humour
Not everyone is comfortable making people laugh. Sure, they enjoy a chuckle, but they usually aren't the ones to initiate a funny story. For those persons, trying to be humourous adds an undue burden that can cause speech making to become more complicated than it needs to be.
If you're someone who shies away from humour in your daily life, you needn't feel compelled to add it into your talk. It's better to stay within your comfort zone, especially if you're unaccustomed to giving talks.
On the other hand, if you enjoy making people smile and tend to do so effortlessly, feel free to pepper your speech with wit. Just be certain that (unless you're asked to be the comic relief) the humour doesn't outshine the message of your talk.
Watch Your Language and the Type of Humour
Many individuals erroneously equate humour with foul language or lewd imagery; not surprisingly, public speakers who rely on such bawdiness are usually not asked to give speeches again.
Be extremely cautious when telling or making a joke during your speech, as you could unknowingly offend audience members. What may seem like an innocuous comment to you could wind up causing someone else to walk out of your speech in a huff.
Yes, there are a few occurrences when rowdy humour may be suitable, but those are rarities in the world of public speaking. Generally, all humour should be "clean" and void of questionable subjects or double entendres. You'll feel better about it, and so will your listeners.
You might also like...