Award Speeches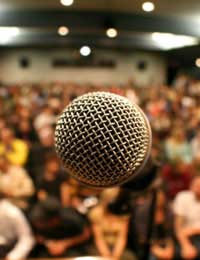 If you've been asked to give a speech associated with the delivery of an award consider yourself fortunate! Award speeches are some of the most uncomplicated types of public speaking occasions because the onus is really on the person winning the honour and not on you.
Of course, it's still important for you to plan how to make the speech exciting and apt. Consider dividing it into the following sections to maximise its impact and suitability:
SECTION ONE: Describe the Award
First, it's essential that you describe the award that's being given, as not every listener may be familiar with it. Answer basic "Who, What, When, and Where" questions during your introduction.
For example, let's say you're giving an award to the employee of the year at an annual meeting of 100+ of your colleagues. Though they are probably aware of the honour, it's important to describe it anyway to build the suspense and interest:
Who: An employee who has consistently gone above and beyond the call of duty.
What: An annual award given on behalf of the company. It also includes a monetary prize of £100.
When: Once a year.
Where: It's always announced and given at the annual meeting in October.
Using the above "notes", you can create the ideal, succinct introduction:
"Every year, ABC Company recognises one employee who has consistently gone above and beyond the call of duty by naming him or her the Employee of the Year. Though everyone at ABC gives 100%, one of the reasons we've had such stellar years, this person has a habit of giving 115%. This year's winner will be awarded an engraved plaque, accompanied with a cheque for £100 as an extra thank you for all he or she has given to ABC."
SECTION TWO: Build the Suspense to Hear the Winner's Name
At this point, your audience should be asking themselves, "Who is the Employee of the Year?"
It's up to you to "milk" this atmosphere of heightened suspense by describing the winner (but not giving the winner's name) in somewhat vague terms (so as not to totally give this person's identity away).
For instance, you could continue by stating:
"This year's winner has worked at ABC for some time now. She's always given her best, but really made a splash this year by tackling some projects that others said couldn't be done. Without her drive and energy, ABC Company could never have unrolled its new product line in time for the holiday season."
SECTION THREE: Announce the Winner
If you've done your job, your listeners' interest has now piqued, and you can announce the winner's name.
"I'm proud to announce that ABC Company's Employee of the Year is April Jones!"
SECTION FOUR: Congratulate the Winner
Typically, if the employee is in the audience, he or she will come to the stage or the front of the room to receive the award. Make certain to shake his or her hand (a hug may be appropriate depending on the situation and your relationship to the winner.)
Usually, winners of major awards are given the opportunity to say a few "thank you" words; however, this is not always the case. Should the award winner of your speech be given the opportunity to talk, casually step away from the podium or centre of the stage to give him or her the spotlight.
Note, though, that if he or she begins to ramble, it may be up to you to step in and end the speech with a tactful, "Thank you so much, April. We appreciate all you do. (to audience) Can we have another round of applause for our Employee of the Year?"
SECTION FIVE: End the Award Segment
Unless you have more awards to distribute, it's important to simply end the honours portion of your speech by segueing into another topic area or introducing the next speaker:
"Congratulations again, April. Now, Mr. Smith would like to say a few words…"
* * *
Obviously, not all awards speeches will fit neatly into the above scenario. Sometimes, winners are not given the opportunity to speak. Other times, you may have a string of awards to give at once, meaning less time can be spent in the "build up" phase. But no matter what type of award you're announcing, be sure to infuse your speech with genuine affection and admiration; remember, it's all about the award winner.
You might also like...
I am appointed to present an award to the best I.T student of a certern company, I need an asistant
Desmond Udo
- 22-Jan-19 @ 7:05 AM
help need a best film award presentation speech
CARLIUX
- 11-Jan-19 @ 5:46 AM
pls ,I want you guys to help me on speech on invention of Incurable disease cure
Rayckan
- 28-Sep-18 @ 2:44 PM
i am nominated for best employee, kindly help me to give a speech
rasheed
- 31-Jan-18 @ 10:45 AM
I have been selected to make a speech for my employee at his ten years long service award. Please assist me with speech writing
Erics
- 13-Sep-17 @ 10:28 AM
I need a speech about passing on the ball of sports excellence
nangolo
- 22-Apr-17 @ 3:19 PM
Pls I want you guys to help me on award presentation the title is.ZEAL AND HARDWORKING on our COMMUNITY
smally
- 21-Jan-16 @ 10:28 PM
I wasnominatedtogivea thankgivingawardspeech intheourcompany . needhelp.
mackzou
- 26-Mar-15 @ 10:48 PM
@ZEEKAKHWESTA - if you read the article and use it as a rough template it should give you some indicators of what you need to say in order to present your award.
PublicSpeakingExpert
- 5-Mar-15 @ 9:47 AM
AT COLLEGE WE HAVE BEEN GIVEN AN TASK TO MAKE A SPEECH TO ANNOUNCE TREVOR NOAH WHO HAS WON AN AWARD SO WE HAVE TO MAKE AN SPEECH ABOUT THAT. SO I WANT TO KNOW WHAT I HAVE TO SAY FIRST BEFORE ANYTHING PLAESE HELP AM DESPARETE.
ZEEKAKHWESTA
- 5-Mar-15 @ 9:29 AM
Can you help me to make "Presentation of Award"? for an Outstanding Doctor? :) our event title "Prevention of HIV/AIDS Conference" Please help me! Thank you! ^_^ ~ Kamsahamnida ~
Fany
- 4-Aug-14 @ 7:02 AM
A Job well done. Keep the flag flying
Melchizedek
- 2-Nov-11 @ 4:54 PM