Speeches Geared at Media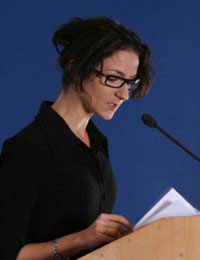 Public speakers have a love-hate relationship with the media. On the one hand they adore the fact that when they talk, the media tends to listen. On the other hand, they loathe it when their foibles are exposed or they are misquoted.
If you know you'll be giving a speech to members of the media (even if it's just to your university newspaper editors or a small-town community weekly reporters), it's important that you exercise some prudence when planning and delivering your talk.
Five tips are listed below to help ensure that your next media experience ends on a pleasant note:
1. Choose Your Words Carefully
Members of the media are always looking for the "story behind the story". Therefore, they'll be listening for any "hidden" messages in your speech… and they might just find some, whether or not they are accurate.
Knowing this, you must choose the words you use with care. For instance, be cautious when using "all or nothing" words like "always" and "never"; often, they aren't truthful reflections, as most things in life aren't black and white. (As an example, if you state: "I have always been in favour of animal rights" and a member of the media discovers you voted against an animal rights bill twenty-seven years ago, you will be labeled as deceptive even though you meant no harm.)
2. Infuse Your Speeches with Quotes
The press loves a good quote, so give them what they want! Rather than forcing the media to cull quotes from your speech, infuse your talk with quotable sentences and phrases. Then, when you deliver those lines, do so emphatically, enunciating each word and pausing after your remarks to allow your quotes to "sink in".
Certainly, not all quotes will be picked up by all media outlets (if more than one publication or station is represented at your speech); however, it's likely that some of those you've prepared will be used.
3. Practice Your Speech Again and Again
Many speeches are videotaped (whether by permission or not), so it behooves you to practice your speech until you can practically recite it while sleeping. In fact, you may want to rehearse it in front of a camera and then play it back, watching for any nervous tics that detract from your words.
Many public speakers are shocked by the way they look on camera. They have no idea how their sentences sound when juxtaposed with physical habits or inclinations.
For instance, imagine if you said: "Our company is announcing a policy against the use of tobacco on any of our grounds. This means that employees and clients who smoke (or use smokeless tobacco products) can only do so on non-corporate properties" while simultaneously rocking back and forth nervously, blinking repeatedly, and occasionally scratching your chin. Though your words might sound strong and convincing, your actions would negate what was being said, and the media would gather that you weren't very confident or secure in the new guidelines.
4. Offer Question/Answer Sessions Only if You Can Handle Them
Press conferences and media events usually include question/answer sessions, but this isn't a rule that's set in stone. If you have the option, you may be able to close your speech with a simple, "I will not be opening the floor to any questions at this time." Though the media is likely to ignore you and try to get you to respond to their shouted queries, you can simply reiterate your position on not answering questions (or just walk silently off the stage.)
However, if you feel that you can handle a question and answer session, be selective in your responses. Never speak without giving your replies a bit of consideration (don't wait too long, of course, but do pause for a moment or two.) And never allow yourself to be "baited" by members of the press who want to make you angry or confused. If you feel yourself becoming too emotionally charged, take a deep, calming breath and force a smile (or at least a neutral facial expression) lest you say something you'll later regret.
5. Take Responsibility
Finally, if you're giving an apologetic media speech, take responsibility for your (or your organisation's) actions. Don't spend your time blaming others; it's a waste to do so and the press will label you as someone who doesn't take credit for his/her own actions. Instead, give a sincere and brief apology, promising to make amends.
Remember that you can't force the press to speak kindly about you, but you can give them as little as possible to say against you. Therefore, speak with judiciousness and wisdom whenever making media addresses.
You might also like...