Speeches Aimed at Children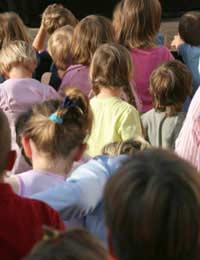 It's a question often debated among public speakers: "Which audiences are more difficult? Kids or adults?"
Obviously each has its pros and cons. Older persons are more apt to at least pretend to be interested, but younger individuals will give more honest feedback… instantly. That being noted, adults can sometimes be less eager to learn than their younger counterparts who often absorb information like sponges.
If you are preparing a speech aimed at a very young crowd, be wise and plan your talk with the following considerations in mind:
Brevity is Essential
Being succinct is necessary when dealing with kids because, quite frankly, they cannot sit still for long periods of time. They need frequent breaks and usually have attention spans of anywhere from 10 minutes to an hour, depending on the subject matter and their age ranges.
Humour is Appreciated
Youngsters love to be entertained, and if you can make them laugh, you'll win huge points. That being said, remember that children aren't universally sophisticated when it comes to humour. Double entendres will be lost on most of them, so be directly and deliberately funny.
Podiums are Out
You might feel more comfortable standing behind a podium, but let's be honest here… it's boring to watch. When you're in front of a younger audience, it's time to step out from behind your "safety zone" and walk around a bit. Sure, you can return to your podium now and then, but don't hide from the crowd.
Handouts are a "No-No"
Unless you're planning on giving your child audience members handouts AS THEY ARE LEAVING, never, never, never provide any to them before or during your speech. If you do, they'll quickly be turned into scribble pads, spit wads, and paper airplanes. (Ok, this probably is a bit of an exaggeration, but they will at least be crumpled up and make noise while you're talking.)
Engage the Crowd
Kids like to pipe up and answer questions, so make them work a little for the information you're imparting! But beware – sometimes children can go on and on and on and… well, you get the picture. Quickly (but kindly) stop any youngster who is dead-set on giving a five minute monologue on her new puppy.
Be Enthusiastic
Smile. Laugh. Joke around. Be confident. Children love it when adults act happy, as it makes them feel happy, too. Even if you don't ordinarily put on a cheery face, do so for the sake of your listeners.
Become a Storyteller
If you can, infuse your speech with some stories. Young people are accustomed to being told and read tales, and they'll be comfortable with this style of education/entertainment. Just make certain that whatever story you choose is relevant to your topic area.
Be Patient
Have to give a speech to a bunch of four and five year olds? Don't get angry when they start "acting up"; it's not you, really! Understand that kids simply haven't learned all the social graces that adults intrinsically know.
Do Your Homework
If you don't have much experience talking to and/or with kids, it's time to do some investigative work! You can start by surfing the Internet and looking for teacher sites and message boards. They'll provide you with a wealth of information (just avoid any pessimistic postings) and help ensure your speech will be remembered fondly.
Have Fun
Being around youngsters should be a fun occasion. So turn your speech into a celebration of youth. In other words, allow yourself to be a kid again, too! It's much more enjoyable (and practical) than trying to turn your audience into adults!
You might also like...