Special Considerations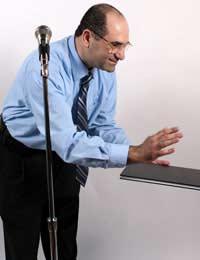 Sometimes even expertly prepared speeches go wrong.When they do, you have two choices:
Give up in defeat
Go with the flow.

Obviously, "2" is the recommended (though not always easiest) reaction. This article will discuss some "special considerations" you might not automatically think about while planning your talk.

The "special considerations" are arranged in the form of questions and answers. Each suggested response has been culled from the experience of real public speakers' trials and errors, so you can be assured that these "special considerations" did, in fact, occur.

What Happens If… "The speech I prepared is not the one the audience expected to hear."

This is definitely a nightmarish scenario. You begin addressing a crowd only to realise to your horror that they expected you to tell them something completely different. If this happens to you, it's wise to immediately stop your presentation and find out what your audience was told prior to your talk. By opening a dialogue (rather than just plowing ahead with your inappropriate material), you'll be creating a bond between yourself and your listeners.

That being said, remain upbeat. Even if you're miffed that you were given the incorrect information on which to base your speech, remain positive and (if you can) make a joke about the mix-up to lighten the mood. Then, see if you can offer some advice from your prepared speech (or simply from your experience) that will entertain and/or educate your audience as they originally intended.

What Happens If… "I have much less (or much more) time to give my speech than I originally was told."

If you have much less time in which to give your speech, focus on only one aspect of it rather than trying to fit everything in or "speed talk". For instance, if you're prepared to discuss sales and you have five terrific selling techniques to share with your audience, don't spend your time trying to cram all five into a few moments. Instead, concentrate on one (and save the four other techniques for another speech.)

On the other hand, if you have much more time to devote to your speech than you originally intended, consider opening the floor to question/answer sessions. And, if necessary and possible, you can always end your speech a little earlier rather than dragging it out. (Most listeners are happy to have an extra 15 minutes, though you could be docked pay if you're receiving remuneration for your presentation.)

What Happens If… "My audience knows more about the subject area than I do."

Ouch. This experience can feel tremendously difficult for even the most seasoned speaker, especially when the audience quickly becomes aware that he or she has little (perhaps nothing) to contribute to the subject area.

In case of this scenario, you would be wise to ask your listeners what they WOULD like to know. Their answers could surprise and delight you, for they might be interested in hearing your expertise on a totally different topic.

On the other hand, they might not be open to changing the topic. So why not "use" them as part of your presentation? If they seem to be bored, invite one (or more) of them up to speak… or, better yet, engage two of them in an onstage debate with one another. Such an "off the cuff" technique will allow you to still be in control (as the moderator of the mock debate) but will take the limelight off your lack of in-depth knowledge of the subject at hand.

What Happens If… "I didn't realise that I'd be speaking with people who were hard of hearing."

Perhaps you weren't told that you'd be addressing people who couldn't hear well, see well, sit still for significant periods of time, etc.

In such instances, it's important for you to make your audience as comfortable as possible. Remember that YOU are there for THEM, not the other way around.

If you're ever in doubt as to whether listeners are getting the full benefit of your speech, ask them! Too many public speakers callously ignore the needs of their audiences. Be the "stand out" speech maker who cares and you'll be the one who is recalled with fondness.

You might also like...