Ending a Speech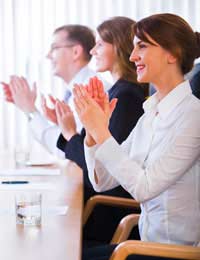 The ending of your speech is no less important than the introduction or the body.
Unfortunately there are some public speakers (even those who regularly give talks) who forget this fact and neglect to plan how they'll cohesively "wrap up" their talks. Consequently, they find themselves stumbling over their words, saying the same thing again and again, and leaving their audience members less-than-wowed.
To ensure that the end of your speech is met with wild applause and not the bewildered scratching of heads ("Is it over?"), you must be certain that the end of your talk contains the following elements:
Comfort Level
You should be as familiar with the ending of your speech as you are with its introduction and body. Thus, your delivery will be smooth and deliberate.
When preparing for your speech, make certain that you practice the ending. Though you needn't spend hours rehearsing the end, do spend a bit of time working on it so you'll be able to comfortably breeze through it.
Succinctness
If the end of your speech is longer than the introduction or body, you haven't organised your talk appropriately.
Generally speaking, succinctness is expected in speech endings. This means that you should give yourself only enough time to remind your audience of the items you discussed, not drone on and on until your listeners begin to question if you'll ever stop talking!
Reiteration
The ending of a speech is not the time to introduce anything new in terms of supporting topic points. For example, if you're giving a talk on Labrador retrievers, you should not wait until the end of your speech to insert that they are one of the most popular breeds of family dogs in the United States. That point should have been made in the body of your speech (or perhaps the introduction.)
Use the last few moments of your speech to remind the audience of points you made earlier in your talk, but only reiterate each one once. To belabour a point is to risk boring your listeners!
Call to Action
Though it's not 100% necessary to include a "call to action" into your speech ending, it can be an appropriate technique for ending a speech on a "we're in this together" note.
For instance, if you're trying to encourage your audience to learn more about a certain subject, you can urge them to visit specific websites, read particular books, or subscribe to suggested publications. That way, your listeners will be left feeling that they were an integral part of your speech.
Gratitude
Finally, it's essential that you end your speech with plenty of honest gratitude. Even if your audience was miserable or hostile, you should rise above their negative behaviours and responses, thanking them for attending your talk.
Not only is gratitude always in style, it's common courtesy and will end your speech on a very professional note!
* * *
A Special Note About Question/Answer Sessions:
Thinking of including a question/answer session into your speech? You can do so before, during, or after the ending of your talk, though it's common to include them as the very last element of any presentation in case you run out of time for audience participation.
You might also like...