Having to Speak for a Longer Period of Time Than You Expected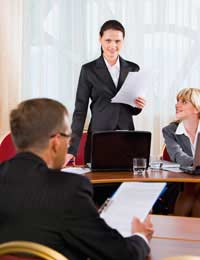 You were prepared to speak for an hour on your topic. Not a problem. But then your host frantically took you aside right before your talk and let you know she made a mistake… you were supposed to speak for an hour and a half.
Yes, such public speaking foibles happen. And how you handle a potential pitfall will set you apart from other speech makers.
First, understand that it's not at all uncommon for talks to be extended or abbreviated. That means it's important to take a number of steps to ensure that you're basically ready for almost anything time-wise.
Here, we'll look at a few top-notch methods of guaranteeing you won't be left high-and-dry if you're asked to add several minutes (or even an hour or two) to your speech.
Always Prepare a Little "Extra" When you're researching and taking notes on your topic, make sure you set aside some points that would be nice to add, but aren't necessary. Then, if you're asked to drag out the timeframe of your speech, you can easily insert those points here and there.

Additionally, there's nothing wrong with preparing another "unit" that you can either throw in at the last moment or leave out. Sure, it'll take some time on your part to do this and have it ready, but you'll be thankful you did if you suddenly need the data.

Don't Plan for a Question and Answer SessionWhen you're determining how much time you'll need to successfully complete your presentation, don't factor in a question and answer session. Consider such a Q&A an "extra" element to your speech rather than an essential part of it.

Consequently, if you need to use up some minutes, you can simply add audience-driven queries at the end of your speech to do so.

Ask a Friend to Help You OnstageIf you're asked to extend your presentation and you have a friend who might be willing to help out by speaking, why not give him or her a ring? Find out if he or she would be able to lend a hand and add more substance to your talk.

Of course, if you're being paid to give your speech, you may be wise to ask your host first if such an arrangement will be agreeable to him or her. (Typically, he or she will be happy to accommodate your wishes, especially given that you've been thrown for a proverbial "loop"!)

Divide Audience Members into Small TeamsIf you're giving a speech to a manageable amount of persons (around 30 or less), you can always have them break up into teams and complete a task that's relevant to your speech's topic.

Though this won't be applicable for every group, it works exceptionally well in some professional and almost all classroom situations. Just be certain that whatever you're asking your audience to do makes sense and doesn't seem out-of-place or they'll wind up questioning your motives.

Add Anecdotes throughout Your SpeechThis takes some creativity, but if you think well on your feet, you may be able to naturally weave anecdotes throughout your presentation. These can be personal stories or items you've seen, heard, or read. As long as they are appropriate and move your subject area along, there's nothing wrong with including them.
Be ImaginativeFinally, you may have to just be a little creative, especially if you're told that you need to add time to your presentation right before you head in front of your listeners. This will require you to be continuously asking yourself, "What can I do to make this longer?" throughout the duration of the public speaking event.

At this point, your behind-the-scenes work will truly pay off, especially when you realize afterwards that no had a clue you were stretching out your speech!

You might also like...

The thing is, you can't realistically plan to speak for longer than the allotted time, or you'll find you have to cut out big swathes of your text if everything's running to schedule. It's best to make your speech elastic, with places where you can put in anecdotes or allow and questions and answers, rather than plan on that. That way you still cover everything you need, and you have the padding available if necessary, without seeming like you're floundering.