What to Have With You When Speaking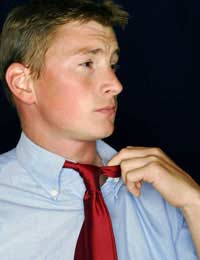 Unless you're asked to give an impromptu speech you'll most likely have a decent amount of time to throw together a few "must haves" for your public speaking adventure. But before you assume that all you'll need are the basics—your presentation outline and handouts/overheads—think again.
To become a stellar speech maker, you also have to develop your own unique bag (or box) of items that you'll carry along to every event.
Here are a few of the more unusual items that you'll probably find useful sooner or later (and will be glad you brought along):
Cough Drops, Mints, and Lozenges—These simple candies and medicines can be lifesavers for both you and any ailing co-presenters or audience members.
Facial Tissues—Have you ever needed something to quickly wipe up a spill (or to use for more personal reasons)? Carry a few tissues (they come in small travel packs that take up virtually no room) for emergencies.
Pens, Pencils, Markers, Chalk, and Dry Erase Markers—Writing utensils can come in handy, especially if you find yourself presenting in a corporate boardroom with a dry erase board… but no markers to go with it. (If you're really into self-promotion, have pens made up with your business name on them and hand them out with audience evaluations.)
Paper Clips, Binder Clips, Rubber Bands, and a Mini-Stapler—Have you ever realised that your pile of papers needed to be tamed, only to discover that you were without a simple clip? Never experience this sensation of disorganisation again by bringing them along wherever you go.
Comb and Brush, Toothpaste and Toothbrush, Dental Floss—You never know when you'll need these toiletries, but you'll be super-pleased you remembered them if you find yourself in a position to use them!
Blank Sheets of Paper, Index Cards, and "Sticky Notes"—Even if you just need these for your own benefit (rather than to give to listeners who forgot their notebooks), they're worth their weight in gold.
A Few Pounds or Change—Do you constantly find yourself without petty cash? Carry a minimal amount with you to pay for a soda or quick snack. (Just remind yourself to replenish your supply of money after you deplete it!)
Bottled Water or Energy Drink—Not every public speaking venue will offer you a supply of thirst-quenching water or energy drink, so bring along your own as a back-up. (It's rough to give a speech with a dry mouth.) However, you may want to avoid carbonated beverages, as they tend to cause gastrointestinal "faux pas"!
Extra Pantyhose (for ladies), Tie (for gentlemen), and Shoe Shine Cloths—Bringing items like this might sound ridiculous… until you get a run in your stocking or spill wine on your tie. And the shoe shine cloths will ensure that your footwear gleams, even if you've had to walk a few dusty blocks to get to your speech.
Business Cards—If you have business cards, always bring them with you to your presentation. Even if you don't expect to hand them out, carry them along. It's much better to have too many with you than not enough!
Headache Medicines—Talking all morning or day can leave you feeling mentally exhausted. Consequently, you may find yourself needing aspirin, acetaminophen, or ibuprofen at some moment before, during, or after your speech.
Maps—Finally, if you're going to give a presentation in a town you don't know well, it's imperative to bring along a map. Even if you are 99.9% sure you can get where you're going, the map will be with you… just in case!
You might also like...