Tips From The Stage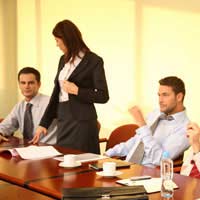 Many public speakers are surprised to realise just how much they have in common with thespians. Basically it is only the types of scripts that make them different!
Consequently, there is a wealth of knowledge that presenters can take away from their acting counterparts. Here are four of the best tips straight from the stage.
1. Look the Part
Can you imagine if the actor playing Hamlet forgot to wear his costume? Or if a TV news anchor was dressed casually in loungewear with an unshaven face and tousled hair? It would seem completely out-of-place, and the audience would spend their time wondering what in the world had happened rather than listening to whatever was being said.
For public speakers, it's just as critical to "dress the part" as it is for a professional actor. This means contemplating what's on your body from head to toe, including piercings, jewellery, and accessories as well as clothing. Just as Ophelia would look ridiculous in a modern bikini, you would look silly giving a conservative corporate presentation in sloppy attire.
2. Know Your Lines
Unless you're being paid to improvise, learn your "script". The best actors do, and you should as well.
Obviously, you might not need (or want) to memorise everything in your presentation word-for-word; for instance, question/answer sessions cannot really be planned (unless you "plant" people in the audience, which is somewhat controversial.)
However, you should know what you plan on discussing, a.k.a, "learn your part". Never assume that "winging it" is an option; it's absolutely not a good idea. Consider how disappointed you would be if you paid to see a performance and no one had studied or practiced! Therefore, do your part and learn your "role" whenever you have a speech to give (even if it's a five-minute "quickie").
3. Learn from Your Mistakes
Good actors don't continuously blame the audience for bad performances. It's true that crowds can certainly play a role in whether a production has a negative or positive "vibe", but the problem doesn't always lie with those who are watching and listening. Often, the biggest problem is the lack of energy or expertise onstage.
If you have a negative public speaking experience, allow yourself to move past it and use what you've learned to become better. Read audience evaluations (even if they sting a bit) and take the more constructive criticisms to heart. Even if you think, "I was horrible!", remind yourself that you can only get more proficient if you approach future speeches with a productive attitude.
4. Entertain as Well as Educate
Many public speakers are sceptical about this suggestion, as they believe that it is somehow "beneath" them to amuse their audiences. But the truth is that we live in a society that expects to be somewhat entertained as well as educated.
From the moment we are born, we are bombarded with words and images; the latter are intended to capture our attention, the former are intended to provide context and meaning.Stage performers understand that an audience wants to be moved by a performance; even a play or movie that depresses a crowd is better than one that leaves them feeling no emotion whatsoever. Thus, you will probably be remembered with much greater fondness if you learn how to incorporate some humour, depth, and unexpected facets into your public speaking engagements.
You might also like...