Performance Techniques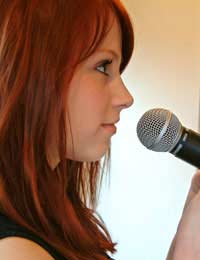 Want to give a speech that sizzles not fizzles? Infuse your next talk with some of the following truly terrific time-honoured performance techniques!
1. Pause for Dramatic Effects
Drama can definitely be your friend, but it must be used judiciously and deliberately.When a speaker deliberately pauses for more than a few milliseconds, the audience cannot help but listen. Therefore, it will boost your performances if you're able to comfortably insert pauses at a few points during your speeches.
For maximum effect, don't look down during your pauses; it will seem as if you've lost your place. Instead, keep a neutral expression and meet the gazes of your listeners.
2. Learn to Smile Naturally
A smile conveys so much—confidence, positively, openness. However, it's critical to know how to smile naturally; after all, forced grins can appear cocky or insincere to onlookers.
In the mirror at home, practice smiling normally. Learn the "feel" of a natural smile. Then, make sure you adopt this facial expression (when appropriate) as part of your public speaking routine.
3. Leave the Podium
Unless you're presenting in a tiny meeting room and cannot move a centimetre to the left or right, try to walk around during your speech. Don't meander aimlessly, of course; but do leave your "comfort zone" (a.k.a, the podium, your desk, a table) now and then.
By moving about a bit (again, don't look like a lost puppy! Pick a spot, head to it, and stay there for a while), you'll make your speech more visually interesting.
4. Engage the Audience
Every now and then, your audience members will probably exhibit glazed looks in their eyes and you'll realise, "I'm losing them!" At such a critical juncture, there's absolutely nothing wrong with suddenly pointing to one of them and asking a question.
By stepping through the invisible "barrier" between you and your listeners, you'll instantly get their attention, upping the chances that they'll remember what you say and snap out of their fogs.
5. Know Your Stuff
Obviously, it's important to know what you're talking about; however, you can take it a step further and REALLY know your stuff!
Do a little more research than you think you'll need. That way, you can pull some interesting facts out of "the air" if you find yourself with extra time on your hands or a particularly antsy audience who seems to want something "different."
6. Learn to Laugh
Laughter is powerful stuff. So use it during your speech (but use it wisely!)
Don't make fun of others, but do poke fun at yourself once in a while. And if a mistake occurs during your speech (the projector doesn't work, the wrong handouts are given, you stumble on stage, et cetera), simply grin and chuckle. You'll strike your onlookers as someone who is charming rather than intimidating.
7. Be Audience Aware
Finally, it's the best public speakers who are aware of their listeners' needs. If you see that they are squirming in their seats, either wrap up your speech or allow them to take a break (if appropriate.) If someone in the back row is hacking away, offer him or her a cough drop or mint.
By showing understanding for the needs of those whom you are addressing, you'll be recalled as a real pro.
You might also like...