Staying Focused on Your Message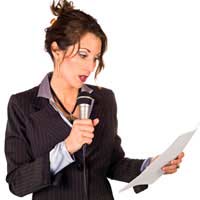 Being a public speaker means more than simply standing in front of a group of people (or in front of a camera if your speech is being televised or taped for future viewing.) Not only are you expected to be an expert on your topic, but you're also counted on to intelligently and succinctly explain your subject area or message to listeners.
Sometimes that's tough to do, especially when you're having trouble staying focused.
Below, we'll look at some of the common reasons that speakers lose their direction during a speech… and how to get your train of thought back on track before your presentation derails!
Potential Problems
You have one or more audience members who are less-than-courteous.
Fast Fix:
A heckler (or hecklers) can create havoc and continuously interrupt your talk. Therefore, you need to address the situation immediately lest he or she succeed in making the event a terrible one for all involved.
If you're giving a several-hour talk, it's appropriate to announce that everyone can have a 10-minute break. During that "down" time, let the offender(s) know in no uncertain terms that you will not allow him or her to be disruptive. If he or she becomes hostile, it's reasonable to ask him or her to leave.
On the other hand, if your speech is short, you may be able to simply use the silence method of handling a rude audience member. After he or she starts speaking, simply stop talking mid-stream, turn all your attention to him or her, and stand stone-faced. Usually, this will make him or her quite angry and uncomfortable, but will get the point across that you aren't going to take heckling lightly.
Potential Problem:
You haven't prepared for your presentation.
Fast Fix:
A lack of prior practice can often lead to poor judgment in terms of a speech, but it doesn't have to do so!
Obviously, you should always be prepared for your speech; however, there may be times when you're given very little notice in terms of when you need to address the public. (This often happens to politicians or business persons dealing with the media.)
Often, just making a quick outline on a piece of paper can help you to stay focused on your message. Refer back to that outline periodically, and if you sense that you're getting off on a tangent, re-right yourself immediately.
Potential Problem:
You're not feeling well.
Fats Fix:
If you're under-the-weather, it can be difficult to concentrate for any length of time.
Should you be sick (or just coming down with a cold or the flu), take every precaution.* Bring along facial tissues, cough drops, water with lemon (or hot tea), and similar "home remedies". That way, you can remain "on task" and your illness will be in the background, not the foreground.
*NOTE: It's best not to take heavy-duty pills or syrups before giving a speech, as they can often lead to grogginess, manic behaviour, or even physical discomfort. Wait until you're finished with your speech to medicate if at all possible!
Potential Problem:
You have difficulty being focused in general.
Fast Fix
Perhaps you're a person whose mind is always going, going, going, and you find it tough to stay focused during your day-to-day activities… let alone when you're giving a public speech!
What you need to do is practice being "in the moment" and not allowing your thoughts to wander. Try learning common techniques for concentrating or engaging in yoga, tai chi, or meditation exercises. These will all help you to calm down and deliver a pointed message that earns you kudos from your audience.
You might also like...