Public Speaking When You're Ill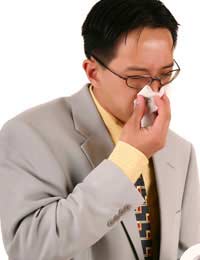 Cough. Sniffle. Sneeze.
You're sick… but you have to give a presentation to a group of people. It's not feasible to change the date, and many individuals are counting on you to be at your best.
So what is a speaker to do?
Given the reality that periodically coming down with a cold or influenza is inevitable if you're human, this subject will probably affect you at least once in your public speaking "career". Even if you only give a few speeches a year, the chances are good that you'll be feeling less-than-perfect on at least one of those occasions.
Consequently, it's important to know how to handle yourself physically and psychologically so you can do more than simply "get through" your talk or meeting; after all, you want to shine, regardless of how yucky you might feel on the inside.
Below are a few tried and true tips of the public speaking trade to assist you in making sure your speech comes off well, even if you're feeling terrible:
Pace YourselfBecause you're ill, you probably want to get your presentation over with as soon as you can; however, such a desire can lead you to "burn out" early in your speech.

Instead of rushing, take your time and keep your tone at a conversational cadence. That way, your body won't go into "overdrive", causing you to become even sicker by the end of the talk.

Sit DownIf it's possible for you to handle most (if not all) of your presentation while seated, definitely do so! This will allow your body to rest, and you'll be much more comfortable.
Wear LayersWhen you're sick, it's common to feel hot one minute and cold the next. Therefore, plan for this possibility by wearing an outfit with a top layer than can be easily removed or added. A jacket or sweater is perfect, as long as it is coordinated and not "ratty" or ill-fitting.
Bring Tea

It's not unusual for public speakers to carry water to sip during their presentations. But if you're not well, hot tea with honey and lemon might be much more soothing. Often, a thermos filled to the brim with a warm beverage can make all the difference.

Get Rest BeforehandDon't pull an "all nighter" the evening before your speech. (Really, this is a bad idea whether you're sick or not!)

The more sleep (a.k.a. "down time") you have before your big day, the better. Your cold or flu might not be gone, but your body will be much better prepared to handle the speech.

Shorten Your TalkShould this be an option, take it.

For instance, if you've been given the directive to talk to a group of department managers from 10:00 a.m. until lunchtime, perhaps you can abbreviate your speech and let your audience leave a half hour early. As long as you give all the information they need, no one is likely to mind.

Use "Mind over Matter"Using the principles of positive self-talk, spend about an hour before your presentation repeating, "I only have to talk for x-number of hours… then I can go home."

Because the mind is incredibly powerful, this mental trick can work wonders as long as you believe what you're saying.

Tell Your Audience You're Not WellThough this isn't always the best route (as in the case of a paying audience who doesn't care if you're well or not), it can be useful.

For example, if you're an educator, it might be okay to let your class know that you're not feeling up to par. That way, they'll understand if you need to blow your nose or sip on some tea. Plus, if you start to lose your voice, they won't wonder what's wrong with you.

Again, this isn't always a real-world possibility, but, hey, if you can use it to get a bit of a break from your listeners, you absolutely should!

(And a final note: Colds and flues always end. So keep in mind that whatever "bug" you've caught isn't forever!)

You might also like...