Engaging With Your Audience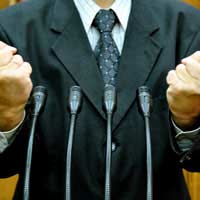 Giving a speech requires more than just formulaically standing up saying some prepared words, and then sitting down. You must create a bond with your listeners; otherwise, you risk losing their collective attention.
Some public speakers have a natural ability to connect with the audience and need never concern themselves with how to engage onlookers. But the majority of speech makers start out less confident of how they can and will create a rapport. Fortunately, if you aren't gifted in this area, you can breathe a sigh of relief because building a strong relationship with your listeners can absolutely be learned.
Whether your speech is five minutes or five hours, check out these techniques for keeping your audience rapt from start to finish.
Make Eye Contact
This can be tough for plenty of people, but it's an essential element to becoming an engaging speaker.
The trick to making eye contact is to spend only a few seconds on each audience member; staring at only one will make that person (and everyone else) very uncomfortable. This method will not necessarily feel normal until you become accustomed to the inherent rhythm of looking at one individual, saying a sentence, then moving on to someone else.
Practice in other settings, such as during networking or social events when you're chatting within a group of three or more.
Get Out from Behind the Podium
Though podiums are quite useful, they can also be somewhat of a "crutch". Have you ever watched someone literally read a whole speech, never looking up once?
The next time you're set to publicly speak, memorise at least a portion of your talk so you can be free to walk around the stage or the room. This will break up the monotony of a lecture-style speech and encourage the audience to pay attention.
Slow It Down
It's hard to engage with a speaker who rushes through his or her information. Not only is a fast-talker difficult to understand, but he or she also risks appearing embarrassingly nervous.
If you habitually speak with a rapid cadence, tape yourself giving a short speech and then play it back. Listen for speed changes, and objectively consider how difficult it will be for onlookers to absorb what's being said. It's no secret – inserting dramatic "pauses" once in a while is an exceptional way to make points.
Keep Them Guessing
The most exciting public speakers are those who occasionally do the unexpected. They bring someone from the audience on stage, they walk out into the audience while speaking, they toss giveaways into the crowd... basically, they aren't doing anything too crazy, but they also aren't following the traditional "stand and talk" method of speech making.
You don't have to be too elaborate to "shake things up" a bit. Just use your imagination and consider how you can make your talk more interesting. Maybe you can insert a "role play" with two volunteers from the audience if that fits into your speech. Or perhaps you can even toss small pieces of candy to listening students (if you're an educator) who provide you with correct answers.
Anything you can do to make yourself more positively memorable will not only engage your listeners, it will help you enjoy the process of public speaking.
You might also like...